QGIS Server Quickstart¶
QGIS Server stellt Kartendienste (WMS, WFS) zur Verfügung und baut auf den Bibliotheken der QGIS Desktopanwendung auf.
Dieses Quickstart beschreibt die
Aktualisierung eines vorhandenen QGIS-Projektes und Darstellung mit dem QGIS Server
Erstellung eines neuen QGIS-Projektes und das Öffnen des Kartendienstes in einem Browser
OSGeoLive enthält eine Webmap-Anwendung basierend auf dem GeoExt Javascript-Framework und QGIS-Server für die Erzeugung und Darstellung der Karte.
Click
. You should see a browser window with a web map viewer showing a world map.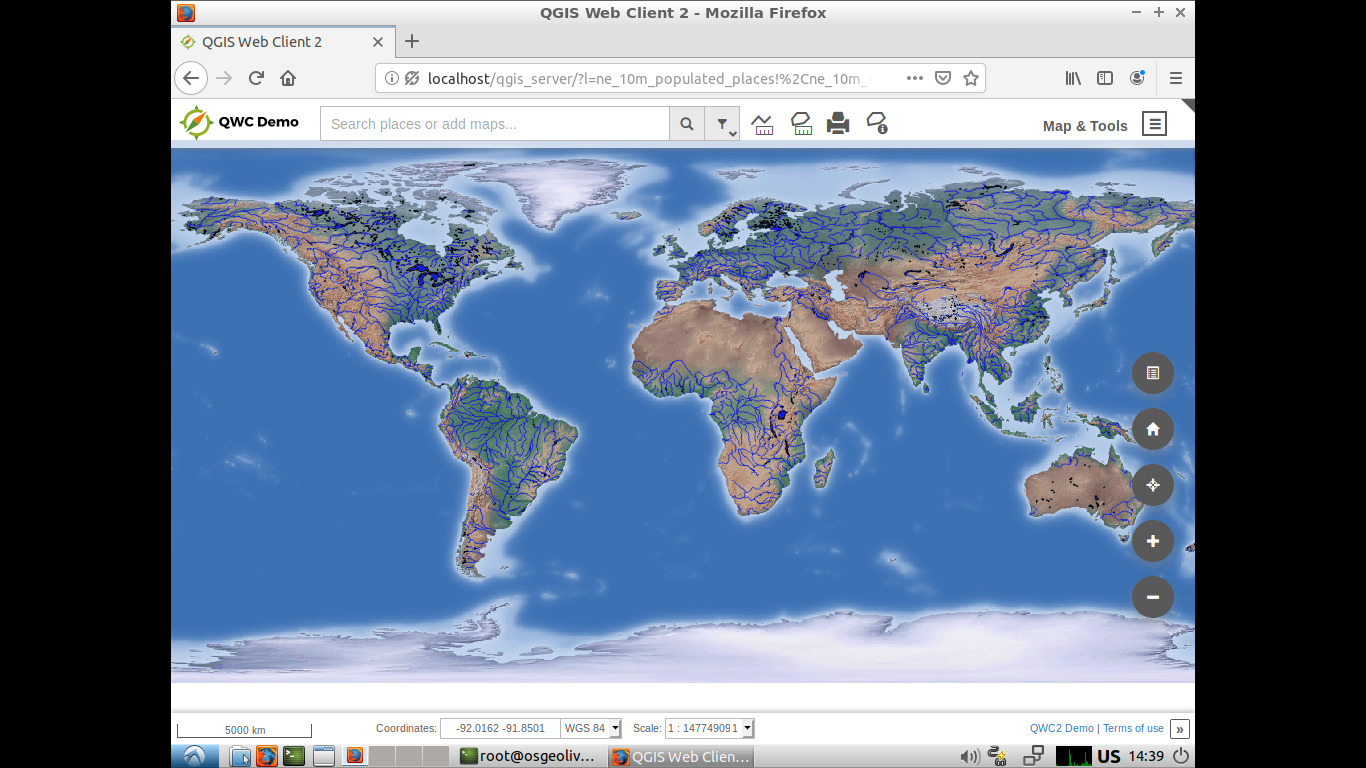 Alternativ kann auf die Anwendung auch mit Hilfe eines Browsers zugegriffen werden http://localhost/qgis_server
Jetzt wird das Kartendesign mit Hilfe von QGIS geändert.
Klick
.
Choose
from the menu bar.
Wähle QGIS-NaturalEarth-Example.qgs aus und drücke Open.

Jetzt sollte die selbe Weltkarte, gerendert von QGIS, sichtbar sein. Anschließend wird das Aussehen der Flüsse geändert und das Ergebnis im Webmap-Viewer betrachtet.

Doppelklick auf ne_10m_rivers_lake_centerlines im Ebenenbaum.
Ändern Sie die Farbe der Umrisslinie zu einem anderen Blauton.
Press OK. Rivers are now rendered in a new color.
Speichern Sie das Projekt mit
.
Reopen the web browser.
Zoom in. You will now see rivers rendered in the same new color.
Reopen QGIS.
Auswahl
.
Click
.
Navigieren Sie zur Datei /home/user/data/natural_earth2/ne_10m_admin_0_countries.shp.
Press Open. You should see all world countries.
Speichern Sie das Projekt mit
.
Wählen Sie /home/user/world.qgs und drücken Save.
Open the WMS URL. You should see all world countries, this time rendered by QGIS Server.
Um mehr über QGIS-Server zu erfahren, ist das QGIS User Guide ein guter Ausgangspunkt.
Dokumentation:
Quickstart zur Serverinstallation mit Debian/Ubuntu:
apt-get install qgis-mapserver libapache2-mod-fcgid
QGIS Webclient: